With the support of Senator Tim Johnson, an overwhelmingly bipartisan group of Senators passed the Employment Non-Discrimination Act, meaning that Congresswoman Kristi Noem and House Republicans are now the only obstacle to making sure that workers can't be fired for who they love.
The Senate voted to pass ENDA today by a vote of 64 to 32, but Congresswoman Noem's House Majority Leader Eric Cantor confirmed that the legislation won't even come up for a vote in the House, meaning many Americans will continue to live in fear of discrimination and firing because of their sexual orientation.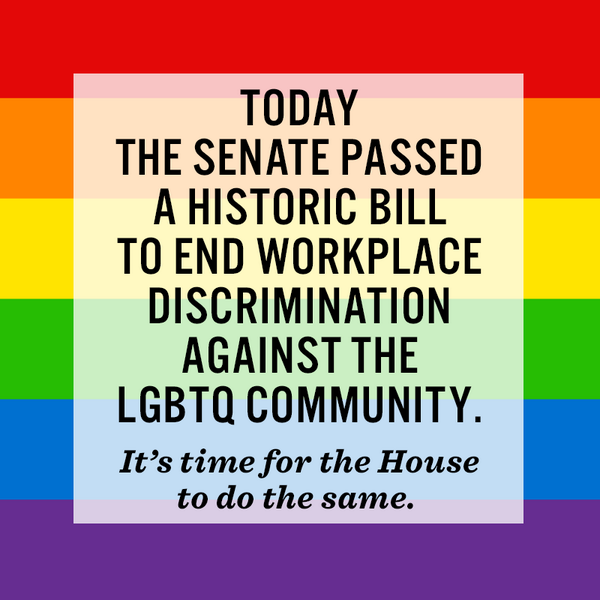 Want to do something about it? Pledge your help today to Send Noem Home.
BACKGROUND:
The Senate Overwhelmingly Passed the Employee Non-Discrimination Act "In a Bipartisan Show of Support That is Rare for Any Social Issue." "The Senate on Thursday approved a ban on discrimination in the workplace based on sexual orientation and gender identity, voting 64 to 32 in a bipartisan show of support that is rare for any social issue. It was the first time in the institution's history that it had voted to include gay, lesbian, bisexual and transgender people in the country's nondiscrimination law. Despite initial wariness among many Republicans about the bill, 10 of them voted with 54 members of the Democratic majority to approve the measure. But nothing is guaranteed in the House, where Speaker John A. Boehner has repeatedly said he opposes the bill." [New York Times, 11/07/13; S. 815, Vote #232, 11/07/13]
…But Speaker Boehner Opposes ENDA and "It Seems Unlikely That it Would Even Get a Vote" in the House. "House Speaker John Boehner (R-Ohio) affirmed on Monday morning that he would oppose a law that would prohibit discrimination against gay and lesbian employees in the workplace, citing the possibility that it would put a financial burden on businesses. […] And with Boehner coming out in opposition, it seems unlikely that it would even get a vote." [Huffington Post, 11/04/13]